About us - à propos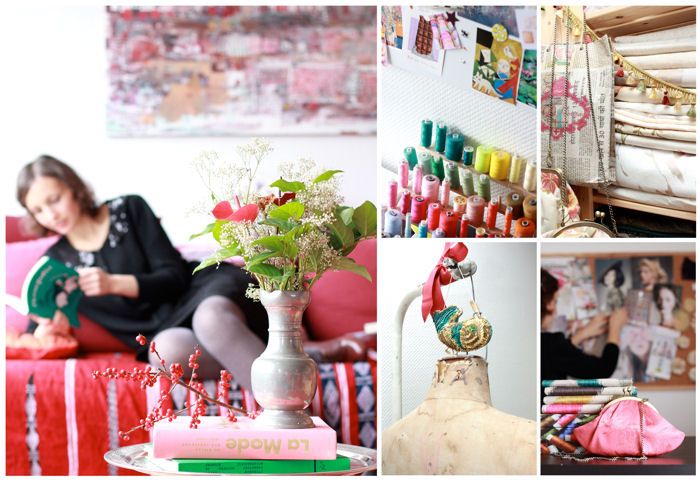 Rym, the designer behind mademoiselle bagatelles grew up between France and Tunisia, developing a flair for style and a strong sense of colours and texture.

After a degree in Fashion and Textile design from Duperre College of Art in Paris, she sailed for London and completed her studies with a degree in Tailoring at Central St Martins.

A stint at Alexander McQueen reinforced her dream of one day running her own label.

After working as a freelance pattern cutter for various London Fashion Week designers, she felt ready to bring her dream to life, as a result of her different experiences.

She created her first clutch in spring 2009, when she couldn't find a beautiful yet affordable clutch for a wedding she was attending so she decided to make it herself.

Since then, Mademoiselle Bagatelles has grown to a comprehensive accessories brand, captivating the interest of both fashion conscious and vintage addicts.

Rym, la créatrice de Mademoiselle Bagatelles, a grandi entre la France et la Tunisie, développant un sens aigu pour le style, les couleurs et les textures.

Après un diplôme en Stylisme de mode et création textile à l'ESAA Duperré, elle s'est envolé pour Londres et a complété ses études avec un diplôme en Tailoring et Modélisme à l'Ecole Central Saint Martins.

Un passage chez Alexander McQueen a renforcé son rêve de lancer un jour sa propre marque.

Après avoir travaillé comme modéliste freelance pour différents créateurs de la London Fashion Week, elle se sentie prête à concrétiser son rêve, comme l'aboutissement de ses expériences variées.

Elle a créé sa première pochette au printemps 2009. Ne trouvant pas un sac de soirée à la fois beau et abordable pour un mariage, elle décida donc de le réaliser elle-même.

Depuis, Mademoiselle Bagatelles s'est transformée en marque d'accessoires complète, suscitant l'intérêt des fashionistas et des fans du vintage.